Lock and Key Services in Chelmsford, MA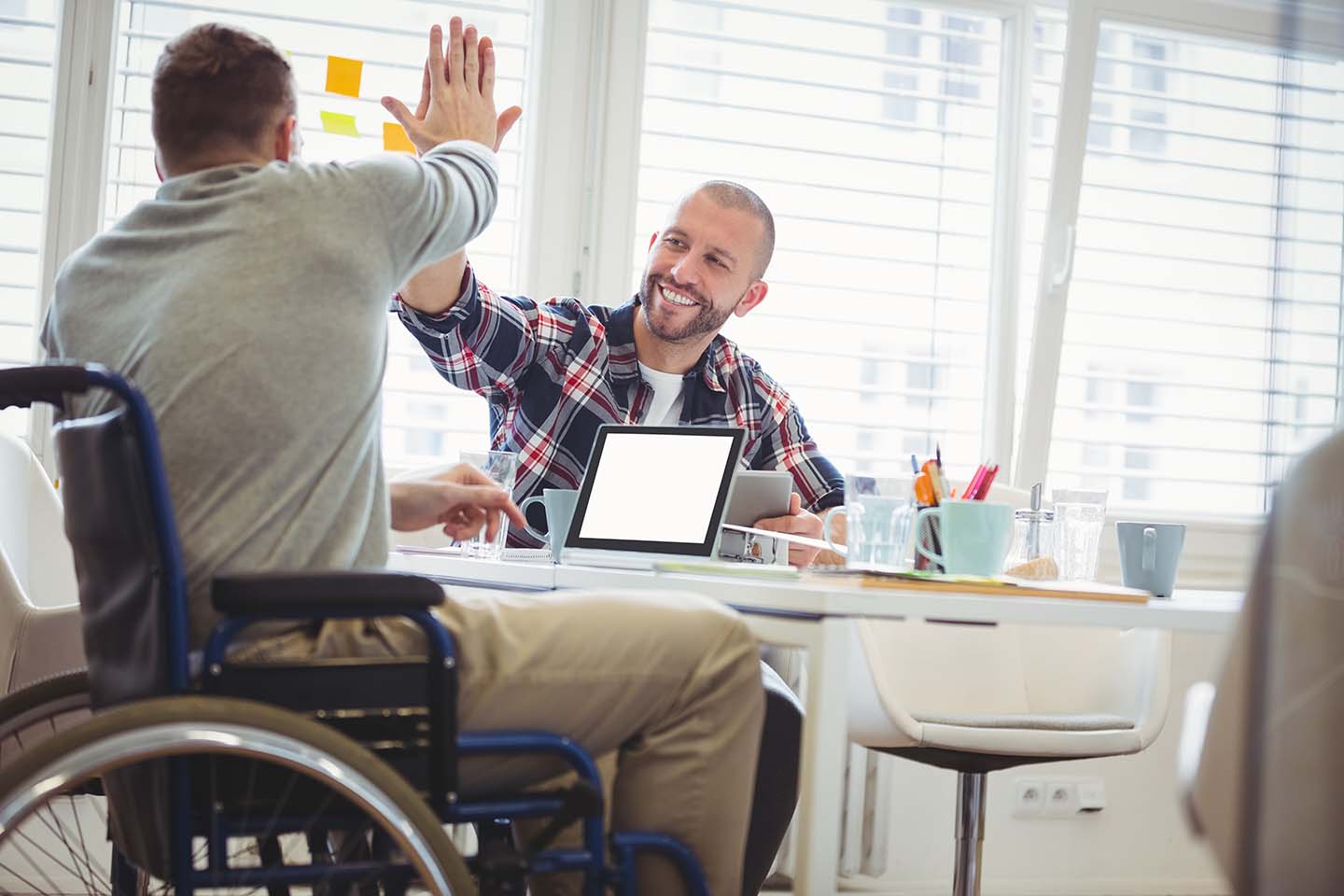 Even though handicap door openers are not required under the ADA (Americans with Disability Act), they are still a great practical solution for businesses that look to make an entryway compliant. Installing a handicap door opener also has other benefits, including easy access, energy efficiency, low maintenance, and flexibility for install just to name a few. At Chelmsford Lock & Key, Inc., we specialize in handicap door opener installation and also provide a range of other lock and key services.
Handicap Door Openings
A handicap door opener is a perfect choice for commercial and home use, as it helps improve the accessibility of your business. It is designed to open and close doors for the physically handicapped
ADA Compliant
If you own a business, it is important to take care of your customer, especially considering the Americans with Disabilities Act of 1990. Under this legislation, you, as a business owner are required to remove all the barriers that do not allow people in wheelchairs from entering and exiting your commercial property. This also includes installing handicap door openers. Even if your business has entrances that are only of strict and limited access to employees with keys, cards, or other forms of clearance, there still must be at least one entrance with handicap door openers. If you want to make sure that you adhere to the ADA and bring your business up to compliance with quality craftsmanship, service, and hardware, you should contact Chelmsford Lock & Key, Inc.
Easy to Use Doors
Installing a handicap door opener makes your door easy to use. Automatic doors allow creating a welcoming environment and ADA-compliant environment. Knowing that your business and open and accessible to everyone is a great feeling. Easy to use doors have the following benefits:
They are energy efficient. They shut themselves completely each cycle, which helps you reduce your monthly energy bills.
They are convenient. Your customers do not have to attempt to operate a door handle, especially if they have children, pets, or heavy items with them.
Versatility. They can be used in different settings, including shopping malls, office buildings, nursing homes, grocery stores, hotels, apartment complexes, etc
They are sanitary. ADA-compliant doors also help reduce the spread of germs, so your employees and customers are protected better.
Residential and Commercial Services
Whether you need something as quick and simple as a lock repair or something as more complicated and serious as a full security consultation, Chelmsford Lock & Key Inc. in Chelmsford, MA is ready to help. We are well known for our professionalism, great attitude, and strong work ethic to the task. Our team consists of great specialists who have decades of experience. We also have Massachusetts Locksmiths Association Permit #763 that guarantees that you will be provided with high-quality service.
Residential Work
We understand how important the security of your home is for you. You do not have to worry about it – we are here to offer the most reactive and proactive home security solutions, which will help you keep your family, your dwelling, and your personal belongings safe. At Chelmsford Lock & Key Inc., we always work with our clients tirelessly to make sure that we offer the best solution. Here is a list of services we offer:
Master keying
Lock installations and repairs
Lockout assistance
Lock upgrades
Combination changes
Lock changing
Safes services
Handicap door opener installation
Security consultations
Commercial Work
The purpose of commercial services is to provide all the necessary security installation and regular proper maintenance that your business may need. At Chelmsford Lock & Key, Inc., we realize if safety and security are among the top priorities for you as a business owner. For this reason, we provide comprehensive commercial services. Our technicians are fully insured, bonded, and licensed, and have all the necessary equipment and tools to respond quickly and efficiently to any commercial service requests from business owners. Feel free to give us a call today to receive a bid on the service you need
Lockouts
As a homeowner and business owner, you probably understand that keeping your business or home secure and safe requires more than just occasional calling for emergency lockout assistance. Real and proper security is based on the combination of high-quality products, great service, and consistent quality. Chelmsford Lock & Key, Inc. offers this combination, and here is a list of products we have:
Deadbolts
High-security locks
WIFI locks
Door closers
Medeco high-security locks
Master-key systems
Keyless locks
Removable core locks
Card-access systems
Fire exit locks
Metal door locks and keys
We work with such brands as Abus, Baldwin, Detex, Dorma, Emtek, Falcon, Folger Adam, HPC, Keedex, MAG, Marks, Medeco, National, Rixson, Norton, SDC, Securitron, Timberline, Trine, Von Durpin, Yale, and others.
Do you need handicap door openers installed in your home or business?
Do you want to make your business ADA compliant and accessible to your customers and guests? Do you want it to be more efficient, convenient, energy-efficient, secure, and safe? Then handicap door openers installation is exactly what you need. If you live in Haverhill, Chelmsford, or Lawrence, MA, or any other nearby town, Chelmsford Lock & Key Inc. is ready to assist you with that. We have been offering high-quality services since 1967 to both business owners and residents. For over 45 years, we have been taking care of our clients because their safety, security, and convenience are our top priority.
If you have any questions about our products or services, or you want to schedule your first consultation with one of our licensed and experienced specialists, feel free to contact us.